The Kingdom of Thailand is an independent country that lies in the heart of Southeast Asia with Bangkok being its capital. Bordered to the north by Laos and Burma, to the east by Laos and Cambodia, to the south by the Gulf of Thailand and Malaysia, and to the west by the Andaman Sea and Burma, it is the only country in Southeast Asia never colonized by a European power.

While Thailand is the world's 50th largest country in land mass (approximately 513,000 square kilometers), it is the world's 20th largest country in terms of population (approximately 64 million people). About 75% of the population is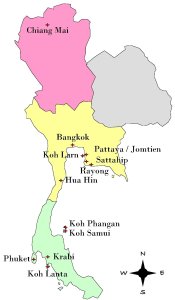 Click for larger Image ethnically Thai, 14% is of Chinese origin, and 3% is ethnically Malay. The rest belong to minority groups including Mons, Khmers and various hill tribes. There is a small number of expatriates from other developed countries. Although the official language of Thailand is Thai, the level of English proficiency about the Thai people is increasing gradually.

Thailand is mainly an agricultural country with a fairly new industry emphasizing on exports and a flourishing tourism industry, the peak season of which is from November to April and in July and August.

The official calendar in Thailand is based on the Buddhist Era which is 543 years ahead of the Western calendar, for example the year 2009 AD is 2552 BE in Thailand.

Administratively Thailand's 76 provinces (Changwat) are divided into districts [Amphoe or Khet (in Bangkok)], sub-districts [Tambol or Khwaeng (in Bangkok)] and villages (Moobaan). Pensit & Laws has experience handling numerous transactions in the places marked on the map to the right.

Land in Thailand is measured in terms of Tarang (Square) Wah, Ngan and Rai. A comparison between the Thai units of measurement and the Metric system is as follows:
| | | | | | | |
| --- | --- | --- | --- | --- | --- | --- |
| 1 Tarang Wah | : | 4 Square Meters | | | | |
| 1 Ngan | = | 100 Tarang Wah | : | 400 Square Meters | | |
| 1 Rai | = | 4 Ngan | = | 400 Tarang Wah | : | 1,600 Square Meters |
---
Usually there are 16 public holidays in a year however there may be more declared by the Thai government. In the event that a public holiday falls on a weekend, the government usually declares the following working day a compensatory holiday.
Public Holidays

Date

Name

1 January
New Year's Day
15th day of the 3nd Lunar month
Makha Bucha Day
6 April
Chakri Memorial Day
13 April - 15 April
Songkran Festival
1 May
Labour Day
5 May
Coronation Day
11 May
Royal Ploughing Ceremony Day
15th day of the 6th Lunar month
Vesak Day
15th day of the 8th Lunar month
Asalha Bucha Day
1st day of the 8th Lunar month
First day of Buddhist Lent
12 August
HM the Queen's Birthday (Mother's Day)
1st day of the 11th Lunar month
End of Buddhist Lent
23 October
Chulalongkorn Day
5 December
HM the King's Birthday (Father's Day)
10 December
Constitution Day
31 December
New Year's Eve
These days, traditional and modern, are observed but are usually not public holidays.
Observance

Date

Name

2nd Saturday of January
National Children's Day
16 January
Teacher's Day
1st day of the 3nd Lunar month
Chinese New Year
14 February
Valentine's Day
15th day of the 8th Lunar month
Ghost Festival
14th day of the 11th Lunar month
Moon Festival
15th day of the 12th Lunar month
Loy Krathong
15 December
National Sports Day
25 December
Christmas Day